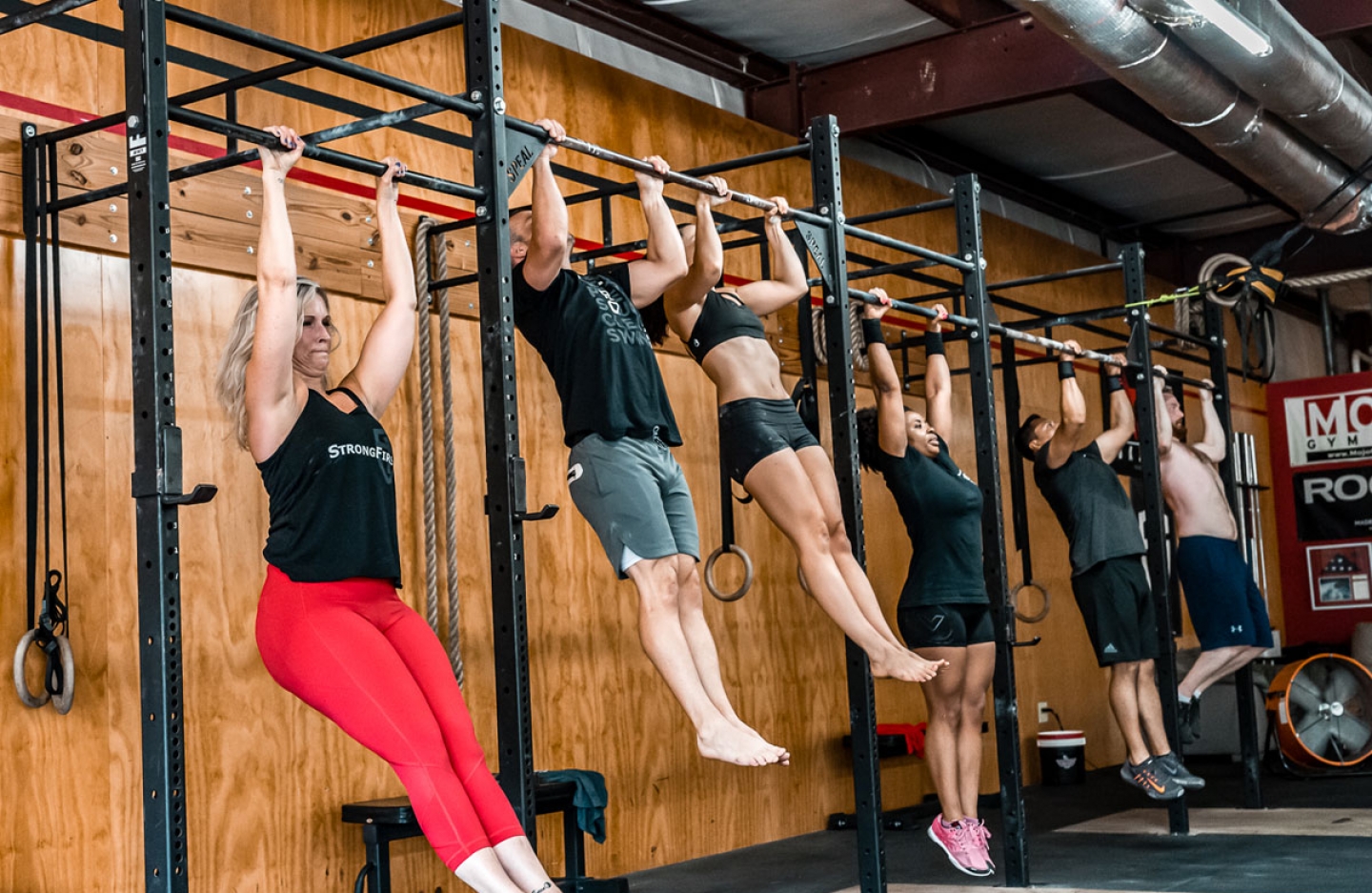 The Basics
What does membership cost?
We offer scheduled, one-hour, highly- coached classes that are most likely waaaaay different than any thing you have done before. That's okay – we teach you everything you need to know but it takes time to learn it and ANYONE can do it! That said, the standard pricing for our new members is $150 per month for two training sessions per week or $175 for unlimited. This includes a three month commitment. We have other options that cost less and some that cost more. If you are used to training at a big box gym for $19.95 a month it may seem like a lot. But if you were seeing the results you wanted, you wouldn't be reading this. We do offer discounts to teachers, military, and first responders, as well as a spousal discount.
What is functional fitness?
Functional fitness is an effective way to get fit. Anyone can do it. Functional fitness is a fitness regimen that combines a variety of movements into a high-intensity workout. Get more info here.
WOD stands for Workout of the Day. Everyone performs the same WOD whether they train at 5am or 5:30pm. Some will do it with less weight, some more. Some will move slower, some faster. All perform the workout at a high intensity but at an intensity is relative to the individual.
How is functional fitness different than a "regular" gym?
There are so many differences, we cannot list them all here! You will notice big differences from the moment you walk in – we don't have machines; we have a lot of open space. Athletes cannot come in to workout anytime, athletes cannot "do their own thing" or workout with their ear-buds in! Instead all athletes participate in a coached group in scheduled one-hour classes where they perform specific movements. All athletes work at a high intensity but that intensity is relative to each individual athlete. It is not uncommon to hear other athletes cheering for each other here; it's a wholly different kind of workout and environment than a "globo" gym.
Are all functional fitness gyms the same?
No. Although we all use the same methodology every functional fitness gym is different and is operated differently. Levels of coaching experience and expertise are different from gym to gym. This experience matters in getting athletes to move well, scaling effectively, and programming effective workouts.
Also, each functional fitness gym has a different feel and may have a slightly different focus.  Our gym is different in that our coaches are experienced with teaching barbell movements. We believe in getting athletes to move the barbell well before adding weight to the barbell. We take the time to coach athletes to move better, whether they are new to functional fitness or have years of experience.
Getting Started
What is Chattahoochee Strength & Fitness?
Chattahoochee Strength & Fitness is not a conventional Gym where you buy a membership and come workout on your own. We have trainer led classes and it is a progressive strength and conditioning program. Meaning if you come consistently, you should improve the 10 categories of fitness. Those 10 categories are Accuracy, Balance, Coordination, Power, Strength, Speed, Mobility, Flexibility, Endurance and Stamina.
We are not a weight loss gym. Most of the fat you loose will be replaced by muscle. We believe that WHAT your body can do is much more important than what your body weighs. Progress here is measured by performance. Weight loss is a side effect of improving your nutrition and functionality. Being better than you were yesterday is the goal: stronger, better conditioned, and better mobility and flexibility. Training to gain strength is more fun and motivating than training in vain to loose something. Here you will never be judged by how you look, how you eat, how much you weigh, or what you do in your spare time. The only thing that matters is that you show up consistently and give your best effort.
Our trainers are not cheerleaders, they are instructors.  We don't do Boot Camp, we perform functional training in a progressive manner. Our workouts are not random, they are part of a program and follow a set of principles. Good form is our priority, move well and move often.
The class schedule is 6a 9a 12p 4:30p 5:30p 6:45p Monday through Friday. There is one 9:30a class on Saturday. We also offer personal training which is scheduled between the client and trainer. Cost of personal training sessions depends on time of day, number of sessions per month and education and experience level of the trainer.
Do I have to be in shape before I start functional fitness?
NO! Anyone can do functional fitness. We scale down the workouts for those who are new to functional fitness, and gradually increase your load and intensity as your strength, ability and fitness levels improve. Whether you're getting into shape or are recovering from injury, we can adjust the training sessions to your needs. We also offer Beginner's Only classes as well as one-on-one training if you need additional individual attention before joining the regularly scheduled classes.
Come in for your free introductory session and we'll answer all your questions. Call us at +1 404-216-8829 or click here to get started.
To qualify to attend Chattahoochee Strength & Fitness classes, you must complete and graduate from a foundations course. The foundations course is a series of 7 one on one personal training sessions to teach the 21-25 foundational movements of functional fitness. Most are barbell movements (Olympic Weightlifting and Power Lifting) but also there are Kettlebell movements, Gymnastics/bodyweight movements, as well as jumping rope, running rowing and biking. We teach you, the member, about your body, your mobility issues, (everyone has some) how to load a barbell, how to increase weight safely, how much is too much weight, how much is to little of weight and why, how to follow a class, how to understand and follow the workouts, and the types of stimulus you will be encountering during your training. This course drastically reduces chances of injury, increases confidence and increases speed of results. Each foundations class is $50 for the one hour session. This is to pay your trainer for their time. 7 sessions is the minimum, but some athletes/members need additional classes to achieve the standard of movement required to attend classes. This is because not everyone learns at the same pace and some people have a harder time with accuracy, balance, coordination, flexibility and mobility. Strength and fitness level has nothing to do with graduation from foundations because that is gained once attending classes. But the athletes/members must show full knowledge of the foundational movements in order to graduate to group classes.
Once foundations is completed, the full price gym membership is $175/month per person for unlimited classes per week and $150/month per person for 3 classes a week or 12 sessions a month if they travel. We have 15% discount options for Police, Firefighters, Militarily, Teachers, Public Service Professionals and some approved corporate discounts. We do not have contracts. Membership is month to month.
Call us at +1 404-216-8829 or click here to get started.
How much does membership at Chattahoochee Strength & Fitness cost?
We have memberships for those who want to train two times a week, as well as an unlimited (three times or more per week) option. The standard pricing for our new members is $150 per month for two training sessions per week or $175 for unlimited. This includes a three month commitment. We do require new members to complete fundamental sessions to learn the movements.
We'll discuss all your options when you come in for an intro. We do not expect you to make a decision during your Intro class. There will be no sales pressure, no BS "enrollment fees," and there is no long-term contract required.
Yes, we give a 15% off discount to military, police, firefighters, and teachers. We also offer a 10% off your second member for married couples.
I've done functional fitness at another gym/on my own. Do I still need to schedule an intro class?
It depends on where you where and how long ago you trained. The best way is determine this is to talk to us at +1 404-216-8829 .
I'm already in great shape! Do I still have to take the intro?
Yes. The free intro session is required for anyone wishing to join Chattahoochee Strength & Fitness who has not done functional fitness before. We operate differently from other gyms and there is some information you need to know before you sign up. This free intro session is your chance to get to know us and for us to get to know you and your current abilities. Call us at +1 404-216-8829 or click here to get started.
Can you help with nutrition too?
Yes. You can't out run a bad diet, so we'll encourage you to make better choices to see better results. Please see our Nutrition page for more.
Classes
Classes last one hour and include a warm-up, mobility work, a skill or strength component, and a metabolic conditioning workout (moving fast and breathing hard). After the warm-up, your coach will explain the workout and the applicable scaling/modifications.
The Beginner level classes include a more in-depth explanation and coaching of the movements. Intermediate and advanced classes include a review of the movements and each movement standards. No matter what level class you are in, everyone gets a great workout. You'll all do the same workout of the day (WOD), but we scale the workout for each student depending on your abilities. You might be a little tired or sore after class but you'll feel like  accomplished something!
Do I have to pick a class time and stick to it?
Regular members do not have to pick a time and stay with it; you can come to 6am one day and 6:30pm the next day. Just attend the classes that work best with your schedule. (Unless you signed up for the Women's Only Workout membership where class times are limited to Tuesday / Thursday at 9:30am.)
I travel a lot. Some weeks I am out of town all week. Can I use those unused classes later?
If you travel a lot, we can set your membership up for a number of classes per month instead of one per week.
I'm intimidated! I don't think I can ever do a workout as you have it written up!
If you are intimidated, our Beginners-only classes may be the best way for you to start. In this class, beginners workout with other beginner-level athletes and receive detailed instruction to learn the moves and gradually ramp-up their intensity. This helps reduce the intimidation factor.
New athletes should also recognize that everyone had their first day of functional fitness! Even our most experienced athletes (and even our Coaches) did not start out unscaled! AND many of our athletes STILL WORK scaled in some way every day! Functional fitness is not a methodology that can be mastered; your ability will be improved over time but will always have room for improvement. All we expect from you is effort. If you can get yourself through the door we can work with you!
I have an injury/condition that will limit what I can do. Can I still functional fitness?
Yes! We can accommodate any ability level and are more than happy to modify the workouts for any injury or condition. For example, we have some athletes that – due to a medical condition – cannot run or jump. For those athletes we replace the jumping movements for another movement that produces a similar effect for the athlete.
Visitors
What is your drop-in policy?
Please contact us to let us know you are coming. We'd like to know when you plan on coming, where you have been doing functional fitness and how long you have been doing it. The drop-in fee is $15.
I've never done functional fitness but I'm visiting the area and want to try functional fitness. Can I come by to try a class?
No. Chattahoochee Strength & Fitness classes are open to Chattahoochee Strength & Fitness members only.